HVAC Equipment Services for
Residential Properties
NO MATTER WHAT PROJECT YOU ARE TAKING ON, REMODELING, BUILDING A NEW HOME, OR SIMPLY REPLACING YOUR EXISTING HEATING AND COOLING EQUIPMENT, YOU CAN DEPEND ON BESTWAY HEATING FOR RELIABLE, ENERGY-EFFICIENT SOLUTIONS THAT WILL LAST FOR YEARS TO COME.  
WE INSTALL QUALITY RHEEM HEATING AND AIR CONDITIONING (HVAC) SYSTEMS, ALONG WITH MANY OTHERS, SO YOU CAN ENJOY THE SIMPLE COMFORTS OF LIFE.

WITH EACH CLIENT, BESTWAY HEATING HOLDS THE HIGHEST STANDARDS FOR QUALITY WORK AND IMPECCABLE CUSTOMER SERVICE.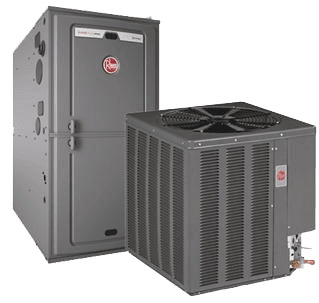 The furnace is the most important appliance in your house, and it continues to get more and more efficient; many offer up to 95% efficiency or more! We want to help keep your family warm all winter long. If you need any furnace services this winter, from installation or replacement to repair and maintenance, call us today!
During the hot summers, a working air conditioner is vital to your comfort when in your home. Our technicians are dedicated to ensuring that comfort. With experience and professionalism, our repair and installation technicians handle your project quickly and efficiently, always keeping the dedication to quality service in mind.All of our systems are always properly sized, energy-efficient, and meet all codes and plans.
​Our customers have come to trust us for reliable repair and installation of heating and cooling needs. Be confident we use only the highest quality materials to ensure your satisfaction! Also, we have an ongoing Rebate Program from Com Ed and Nicor. Be sure to check what you can save!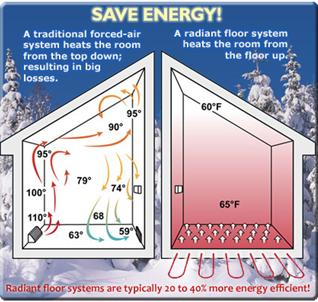 Keeping your feet warm saves energy as it provides the ultimate in comfort! An efficient home heating system that turns entire floors into radiators, warming living spaces without uncomfortable hot or cold air pockets. Hot water is pumped from a boiler through a loop of flexible tubing embedded in the floor, eliminates forever the discomfort of cold floors as it slashes energy bills. Multiple heating zones make it easy to fine-tune the amount of heat being delivered to different rooms.
RESIDENTIAL DRIVEWAYS & WALKWAYS
Viega's S-No-Ice product keeps driveways, walkways, patios and steps free of ice and snow in the winter.